Stephen Paling
// My Writing
An Imagined, Poetic Landscape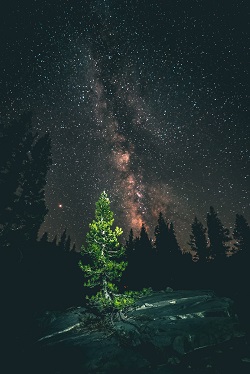 We each have our true north. For me, true north is a modest stretch of wooded terrain along the New Hampshire seacoast. I only lived there for four years while I attended the University of New Hampshire. But that would miss what I find truly important about that terrain. I birthed myself as a writer there. I wrote before, and I've certainly written since. But much of my writing winds back to that modest area, an area full of woods, weathered granite protruding from the ground around it, and quiet spots along the shore, away from the tourist beaches.
Those woods are storytelling woods. Walk through them at night, and the country dark makes it easy to believe. A few miles north of Salem, Massachusetts, you can understand, perhaps, why the pilgrims felt themselves to be on the edge of outer dark. The terrain holds magic for me—lighter, daytime magic, and the darker magic of the nights. I can close my eyes and go there when I need reassurance.
I often don't write about the actual landscape. I write about an imaginary landscape, one charged with magic, a landscape that appears as a character in its own right in my writing.
NONETHELESS

An ordinary forest

about which

no tales will be written.




Each fall

leaves like birds

about to fly,

either

themselves breaking free,

or

lifting the tree into flight.




--from Rooms in Old Houses, Cayuga Lake Books, 2020
THE WOODS KNOW PATIENCE

The woods know patience

beyond human,




know the trail

to be the aberration.




One tree may fail,

whole stands, in fact,




but the creep continues,

the lean-above grows.




Wait long enough,

(as if you could)




watch roots

grow over your feet.




--from Rooms in Old Houses, forthcoming from Cayuga Lake Books, 2020
Even when I set a poem inside, the magic of that place still finds its way in:
ROOMS IN OLD HOUSES




Rooms in old houses

collect more than

dust and

old sewing machines--

layers of sunlit afternoons

cling in each room.

The shade of a widower

in white canvas shoes

is on the wall

next to a

dusty fishing rod.

In the grain of a wooden floor

a toy train waits

and waits at its

miniature station,

patient in the long absence

of a small hand.




The halls of these old houses

were built wide,

but each time you pass

from the kitchen to the bedroom,

the hallway is smaller

by a creak of the house.




First your shoulders will

rub the walls in passing, then

there will be a groaning

and settling in your back,

and the weight

of the accumulating sunlight

will press you to the wall.




--from Rooms in Old Houses, Cayuga Lake Books, 2020
What I learned there remains true for me. Modest places have quiet voices, you need to listen. You can grow magic in a landscape as sure as you can grow anything else. Stay. Even if you leave. Stay. The storytelling terrain remains with you wherever you are. Dwell.
The landscape does not always exhibit magical qualities, though. Sometimes I admire the lansdscape without elaborating:
SONNET WITHOUT SOUND




a leafless mountain

with the long, still

skeleton of a ski lift




an empty lodge

and a stony dirt parking lot




three birch trees

at the edge of a short cliff




boulders ripening in the sun

into round, stone fruit




the bare mountaintop

under my feet




not

one of these things

makes any sound




--from Rooms in Old Houses, forthcoming from Cayuga Lake Books, 2020
I can always close my eyes, and feel words about to form.